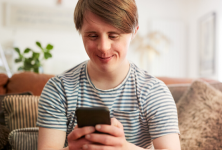 Held online with UMass Lowell, January 4th, and throughout 2023. A social networking program for adolescents and young adults on the autism spectrum. There are currently have around 10-15 regular attendees each month ranging in age from about 16-30 years.
* The group typically meets online (Discord server) the first Wednesday of each month 6-7.30 pm.
* The main goal of The Network is to provide an opportunity for young adults on the autism spectrum to meet others who they may have things in common with and who they can connect with.
* Meeting online, chat, and playing Jackbox games.
* The Network costs $75 for the year (pro-rated; and scholarships are available).
To RSVP or for more information visit https://www.uml.edu/Research/Autism/services/the-network.aspx or contact Ashleigh_hillier@uml.edu
2023 Tentative Schedule – Subject to change. Please check with link for updated information.
Wed 18th January 6-7.30pm: Discord
Saturday 28th January 1-3pm: Omar's World of Comics, 20 Waltham Street, Lexington MA 02421: https://omarsworldofcomics.com/ There is a gaming area upstairs (you have to pay to play the games), bistro (for those who want to get lunch there), demo board games and comics to browse. Pokemon league is 3-5.30pm for those interested in Pokemon (costs $5) but does tend to be children who attend. This meeting is instead of a meeting on the first Wednesday in February.
Wed 15th February 6-7.30pm: Discord
Saturday 4th March 6-7.30pm: Apex entertainment center (laser tag, bowling, mini golf, go karts and more)
Wed 22nd March 6-7.30pm: Discord. Also CARE Expert Speaker: Work without Limits will present on "The Basics of SSI, SSDI and Work." On zoom.
Wednesday 12th April 6-7.30pm (no Discord meeting this month): Laser tag and / or roller skating at Roller Kingdom, Tyngsboro: https://rollerkingdom.com/
Sun 30th April 2.00-3.30pm: Escapology Escape Room (Tewksbury: https://www.escapology.com/en/tewksbury-ma Costs $32 per person. This meeting is instead of a meeting on the first Wednesday in May.
Wed 17th May 6-7.30pm: Discord.
Wed 7th June 6-7.30pm: Merrimack Valley Pavillion. Laser Tag, mini golf, snacks. 2087 Main Street, Tewksbury, MA 01876; http://playatmvp.com
Wed 14th June 6-7.30pm: Discord
Wed 5th July: Ashleigh out of town – no meeting
Wed 19th July 6-7.30pm: Discord
Wed 2nd August 6-8pm: Kimball Farm, 400 Littleton Road (Rt. 110), Westford, MA 01886: https://kimballfarm.com/location/westford/ Kimball has food, ice-cream, mini golf, batting cage, bumper boats, bumper cars, arcade, driving range, pitch and putt, zipline.
Wed 16th August 6-7.30pm: Discord
Sat 2nd September 11.00am: Apple picking at Parlee Farm Tyngsboro
Wed 20th September 6-7.30pm: Discord
Wed 19th October 6-7.30pm (moved closer to Halloween. No Discord meeting this month): Halloween Party and Potluck Coburn Hall.
First or second week of November TBD: UMass Lowell ice-hockey game at Tsonga's arena in Lowell.
Wed 15th November 6-7.30pm: Discord.
Wed 13th December 6-7.30pm (moved closer to the holiday. No Discord this month): Holiday pot luck party at Coburn Hall (UMass Lowell)