About the Authors
Gina (Terrasi) Gallagher and Patricia Terrasi are sisters who are among the many parents raising children with disabilities. 
Fed up with listening to parents brag about their "perfect" children while never asking about theirs, the sisters decided to seek therapy by writing a book. The result? Shut Up about your Perfect Kid! The Movement of Imperfection, their humorous and heartwarming stories of raising imperfect children in a world preoccupied with perfection.
Book Us Today 508-303-3424 or sharon58@comcast.net
Gina (Terrasi) Gallagher
The Sister Afraid of Failure – is a Hatch award-winning freelance copywriter who resides in Massachusetts with her husband, Mike; daughters Katie and Emily; and imperfect dog Max (who has poor eye contact and a bilateral motor challenge).
Patricia Terrasi
The Sister Afraid of Success and mother of daughters, Jennifer and Julianne, and son Michael. Patty works in the disability field and is a strong advocate for families.She has been on a diet since 1978.
The authors are nationally recognized Keynote and workshop presenters in the disability and special-needs communities.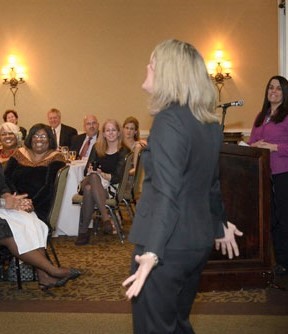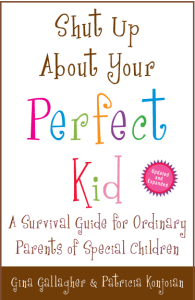 Workshops
Shut Up About Your Perfect Kid.
Humor, Heart and Hope for your next special-needs conference, school, open house, workshop or charity event!
Patty Terrasi and Gina Gallagher, motivational speakers, imperfect sisters, and authors of Shut Up About Your Perfect Kid, A Survival Guide for Ordinary Parents of Special Children, will share with your audience the laughter, joy and heartaches of their journey of how to accept perfectly imperfect children just the way they are.
Topics: all special-needs, including Early Intervention, Mental Health, School, Bullying, Autism, Downs Syndrome, Transition-to Adult challenges and more.
Workshop 1: Shut Up About Your Perfect Kid! The Movement of Imperfection
Primary Audience: Parents of Special Children This humorous and heartwarming 90-minute workshop for special-needs audiences is based on the best-selling book, Shut Up About Your Perfect Kid! A Survival Guide for Ordinary Parents of Special Children. Using hilarious anecdotes and fun exercises (no Spandex required), the sisters will show attendees how to let go of the expectations they have for their special-needs children and love the reality.
Workshop 2: Transition…Cleared for Takeoff – Mom Get off the Runway!
Disability Transition-to-Adult Life Audiences: Parents, Student and Educators. From the moment their kids are diagnosed with differences, parents and caregivers all do the same thing: obsess with questions about their children's future. Will they finish high school? Find love? Drive a car? Live alone? Have someone to care for them when their caregivers are gone? In their own imperfect way, Patty and Gina will show you how to —
Navigate the ever-present mourning process of where your child was supposed to be
Guide your child toward their interests.
Help you get a life – outside of your child's).
Survive your child's dating years.
Visit cemeteries and other places where your special driver can't kill you.
Access transition services available to your child
Let them fly.
Workshop 3. No More Pencils, No More Books, No More Parent and Teacher Dirty Looks
Primary Audience: Parents and Educators. In an imperfect study conducted on shutupabout.com, 9 out of 10 parents indicated they would prefer a colonoscopy to a parent/teacher meeting. Patty and Gina offer a more pleasant alternative: an informative, interactive two-hour workshop that helps bridge the gap over the IEP table.
* Included in this workshop is a discussion based on the Sisters' enlightening Youtube Video, The IEP Team Meeting, which is used as a teaching tool at Loyola University and other colleges throughout the country.
* This presentations has been used for Professional Development at public, private, and special-needs elementary and secondary education schools.
Workshop 4 – Imperfect: That's How We Roll
Primary Audience: Students. In this fun and informative workshop, Patty and Gina will teach middle school and high school students how to look beyond the differences of others. Using funny stories that children can relate to and video footage of disabled students who have achieved success, the Sisters will have typical and special children laughing and celebrating differences, including their own.
Workshop 5 – Laugh, Lunch, and Learn
Primary Audience: Corporations. Whether you have a co-worker in a wheelchair or one that exhibits social quirkiness, this workshop will help your employees appreciate and understand the differences of others, while promoting collaboration and productivity. In this highly successful workshop, which was implemented by Raytheon Corporation. Patty and Gina share their wisdom as well a lunch snacks.
Conferences