When:
2023-11-04T00:00:00-04:00
2023-11-05T00:00:00-04:00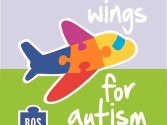 Logan Airport, Boston, November 4th, 2023, with the Charles River Center of Needham, MA. Free. A program specifically designed to support families of children with autism, creating a travel test run to help ease the stress of airline travel. By getting comfortable with the airport and flight experience without actually leaving the airport,  parents and their children with special needs can gain the familiarity and confidence they need to take future trips.
* Wings for Autism® events are a "test run" through the airport boarding process–specifically designed for families who have a child with an autism spectrum disorder.
Families are able to practice:
Entering the Airport, the Check-in Process,  and checking bags
Security Screening & Waiting in the Terminal
Boarding and exiting the airplane, and Preparing for Takeoff
Children and their families gain real life, air travel experience, discovering air travel is possible.
Registration required to www.charlesrivercenter.org/what-we-do/wings-for-autism/ or contact The Charles River Center wingsforautism@charlesrivercenter.org or 781- 972-1000