When:
November 20, 2021 – November 21, 2021
all-day
2021-11-20T00:00:00-05:00
2021-11-22T00:00:00-05:00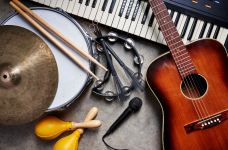 Boston In Person & Virtual Conference, November 20th, 2021, with the Berklee College of Music in Boston. Free and open to the public. Anti-Ableism, Representation, and Accessibility in Arts Education is a professional development opportunity in the field of arts education and special needs, bringing together educators, artists, researchers, policymakers, school administrators, program administrators, and students.
 ** Featured Keynote Speaker: Rebecca Cokley, First Disability Rights Program Officer at the Ford Foundation. Rebecca Hare Cokley is an American disability rights activist and public speaker who is currently the director of the Disability Justice Initiative at the Center for American Progress, where she works on disability policy. She previously served as the executive director of the National Council on Disability.
 ** Keynote Speaker and Performer: Gaelynn Lea, Violinist, Songwriter, and Disability Rights Advocate: Gaelynn Lea is an American folk singer, violinist, public speaker and disability advocate from Duluth, Minnesota. In addition to performing and recording, she also does speaking engagements about disability rights, finding inner freedom, and accessibility in the arts. She uses her music as a platform to advocate for disabled people and to promote positive social change.
To register or for more information visit https://college.berklee.edu/BIAESN/able-conversation-anti-ableism-representation-and-accessibility-in-arts-education  or contact biaesn@berklee.edu,  617-747-2760.