When:
2022-11-05T00:00:00-04:00
2022-11-06T00:00:00-04:00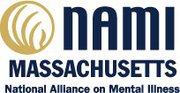 Waltham, MA, November 5th, 2022. The Massachusetts chapter of the National Alliance of Mental Illness's (NAMI) annual convention is for families and those with lived mental health experience. This year's them is Celebrating 40 Years of NAMI Massachusetts: Changing Tomorrow Together.
Now accepting accepting workshop proposals. NAMI Massachusetts is seeking proposals for in-person workshops that reflect this theme.
* Proposed workshops should be of interest to people living with mental health conditions, family members supporting loved ones with mental health conditions, NAMI affiliate leaders, young adults, people working in the mental health field, mental health advocates and educators.
* All workshops should include a clear plan for audience participation and engagement.
* Preference will also be given to workshop proposals that incorporate the voices and stories of people living with mental health conditions and/or their family members and supporters.
* Workshop proposals must be received by Friday, August 19, 2022 in order to be considered.
* Workshop space is limited.
* Proposals will be reviewed by a committee and all applicants will be notified if they are accepted by Wednesday, August 31, 2022.
* For more information for or to submit a workshop proposal, visit https://namimass.org/we-are-accepting-workshop-proposals-for-the-nami-mass-convention/  or contact Eliza Williamson (ewilliamson@namimass.org) and Michelle Ward-Gilles (mward@namimass.org).
Previous years' conference workshops have included topics such as: 

Finding Home: Tools and Techniques for Finding Housing
Peer-Based Crisis Alternatives
Responses to Substance Use
The Importance of Lived Experience Narratives in Training for Law Enforcement
Pregúntas al Doctor
 Exhibit Area and Art Marketplace
Advocacy: Speaking Truth to Power
Family Member Perspectives on Maintaining Wellness
Living with Voices: the Hearing Voices Network Approach to Unique
Experiences
Trauma Basics
Fundamentos del Trauma
and much more.