When:
2022-10-22T00:00:00-04:00
2022-10-23T00:00:00-04:00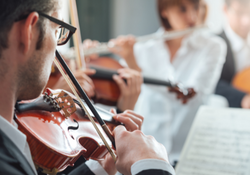 In person event, Pittsfield, MA, October 22nd, 2022.  Me2/ ("me, too") is a classical music organization created for individuals with mental illnesses and the people who support them.
* October 22nd Performance: The Brien Center celebrates 100 years!
Me2/Boston Orchestra, Ronald Braunstein, Music Director & Conductor
The Colonial Theatre, Pittsfield MA.
* Me2/ is a nonprofit, 501c3 organization with programs in Boston MA, Burlington VT, and Manchester NH, as well as affiliates launching in additional states.
* To participate in Me/2 – No auditions. No fees. No stigma.
* Just join in and share your gifts in an inclusive, stigma-free ensemble.
* Rehearsals and performances create opportunities for the group to educate people about the realities of living with mental illnesses and support those who are seeking treatment.
* It's a way for musicians of all ages and ability levels to create social change.
*For more information about this concert visit  https://me2music.org/about/   or contact info@me2music.org or (802) 238-8369.