When:
2021-10-15T00:00:00-04:00
2021-10-16T00:00:00-04:00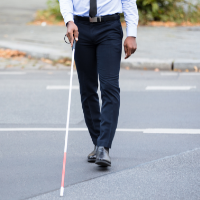 Virtual Event, October 15th, 2021, with the Massachusetts' Commission for the Blind (MCB).  Join MCB online for an International White Cane Awareness Day Celebration.
* Discuss the history of the white cane, the "White Cane Law", white cane benefits, different types of canes, traveling recommendations, the impact of COVID-19, and best practices during a pandemic.
To register or for more information visit www.mass.gov/orgs/massachusetts-commission-for-the-blind/events and scroll down to the event. Or Email Carol.Cullins@mass.gov for more information.
* If you would like to request an ADA accommodation, please contact MCB ADA Coordinator Kamilia Drogosz at 617-279-3332 or kamilia.drogosz@mass.gov. Every effort will be made to provide a reasonable accommodation.
For more information on White Cane Awareness Month or for white cane training, contact the Orientation & Mobility Department at the Mass. Commission for the Blind, 800-392-6450(V/TTY) x7581.
Massachusetts White Cane Law: General Law Chapter 90 Section 14A – Stop for White Cane and Dog Guide Users at Street Crossings-It's the LAW.
* White Cane Awareness Month is to promote better understanding of what a white cane means & how pedestrians and motorist can assist long cane users and dog guide users at street crossings.