When:
September 30, 2023
all-day
2023-09-30T00:00:00-04:00
2023-10-01T00:00:00-04:00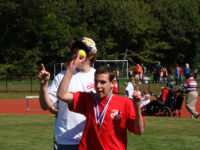 Needham, September 30th, 2023, with the Charles River Center. Free. This event welcomes athletes of all ages and abilities to participate in track and field events such as running and wheelchair dashes, basketball throws, ladderball, and relay races.
* Every event is modified so that all who attempt to participate will be successful.
* Athletes will receive a medal for their achievement, a free t-shirt, and lunch.
Events include:
Ladder Ball
Ring Toss
Basketball Toss & Soccer Kick
Relay, Running & Wheelchair races
* The Ellie Bloom Olympics were named after Ellie Bloom, a long-time supporter of the Charles River Center. Ellie Bloom was a former staff member who was also the parent of a child with developmental disabilities.
Please note: there will be no walk-in registrations the day of the event.
Pre-registration is required to www.charlesrivercenter.org/news/ellie-bloom-special-olympics/  or contact familysupport@charlesrivercenter.org or  (781) 400-6285.