When:
2023-12-09T00:00:00-05:00
2023-12-10T00:00:00-05:00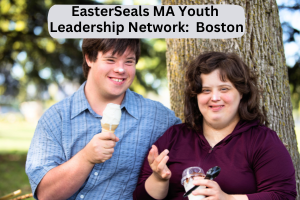 Boston, MA, December 9th, 2023, with Easterseals Massachusetts. This free group is open to join at anytime throughout the year. The Youth Leadership Network is open to any youth with a disability 14 to 26. There is no commitment to participate. New and past participants are welcome to join into any group.
* Through the support of Mass Rehab Commission, the YLN promotes self-advocacy and self-awareness for teens and young adults with disabilities ages 14 to 26.
* All groups and events feature fun, interactive discussions about communication, teamwork, community service, disability rights, career interests and employment skills.
* YLN also offers monthly in-person in East Bridgewater, Springfield and Worcester.
* Free lunch or snacks will be provided. Please RSVP below or by emailing.
Cancellations will be emailed to those who RSVP as well as posted on their Facebook page.
To register or for more information visit www.easterseals.com/ma/programs-and-services/youth-services/leadership-and-mentoring.html    or contact Youth@eastersealsma.org if you plan to attend a group.