When:
2024-03-13T00:00:00-04:00
2024-03-14T00:00:00-04:00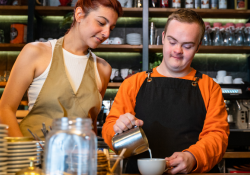 Webinar, March 13th, 2024, with the Lurie Center for Autism in Lexington's "Coffee & Convo" Parent Series. The speakers will Brett Mulder, PsyD, and Elise Wulff, MEd.
About the speakers:
* Elise Wulff oversees the Lurie Center's Child programming, Parent programming, Aspire Works, and related services where participants engage in multi-disciplinary, strengths-based learning .
* Brett Mulder is Director of Teen and Adult Programs at Aspire and Clinical Instructor at Harvard Medical School, oversees year-round programming for teenagers and adults with high cognitive autism and related profiles. At the Lurie Center for Autism, he sees children, teenagers and adults for individual psychotherapy.
Registration is required to www.massgeneral.org/children/autism/lurie-center/, and scroll down to page to your desired event, or contact LurieCenter@partners.org or call: 781-860-1700.