When:
2023-10-07T00:00:00-04:00
2023-10-08T00:00:00-04:00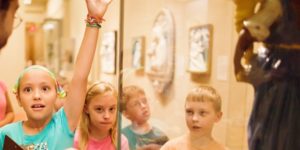 Boston, Museum of Fine Arts, October 7th, 2023. For kids with Autism Spectrum Disorders, ages 8 – 12. Artful Healing and Beyond the Spectrum offer a specially designed program for Autism Spectrum, including Asperger's Syndrome, accompanied by a parent or caregiver.
October Theme: Ancient Egypt. Explore the collection of Ancient Egyptian art at the MFA. Learn about Ancient Egyptian religion, culture, and history as we examine the artworks and artifacts in the collection.
* After the exploration, head to the studio to create your own artwork with our names or favorite words in hieroglyphs. This hands-on experience will allow everyone to channel our inner artists and express ourselves in new and exciting ways.
* Gain a deeper understanding of Ancient Egyptian art and culture but also unlock your own creative potential.
Fees Apply – registration is required to  www.mfa.org/programs/community-programs/beyond-the-spectrum    or contact 617-369-4027 artfulhealing@mfa.org.