When:
2023-10-21T00:00:00-04:00
2023-10-22T00:00:00-04:00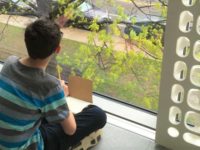 Boston, Museum of Fine Arts, October 21st, 2023. For teens with Autism Spectrum and Aspergers Disorders ages 13 to 18. Focus on specific art topics and incorporate discussion, critical inquiry, and sketching in the galleries. Students then work independently on a project with guidance from an experienced instructor.
 October Theme: Ancient Egypt. Explore the collection of Ancient Egyptian art at the MFA. Learn about Ancient Egyptian religion, culture, and history as we examine the artworks and artifacts in the collection.
* After the exploration, head to the studio to create your own artwork with our names or favorite words in hieroglyphs. This hands-on experience will allow everyone to channel their inner artists and express ourselves in new and exciting ways.
* Gain a deeper understanding of Ancient Egyptian art and culture but also unlock your own creative potential.
Fees Apply, registration is required to www.mfa.org/programs/community-programs/beyond-the-spectrum or artfulhealing@mfa.org or 617-369-4027.