When:
2021-05-15T00:00:00-04:00
2021-05-16T00:00:00-04:00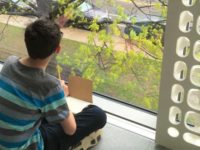 Online only, May 15th, 2021, with the Boston Museum of Fine Arts. For teens with Autism Spectrum and Aspergers Disorders ages 13 to 18.
* Focus on specific art topics and incorporate discussion, critical inquiry, and sketching in the galleries. Students then work independently on a project with guidance from an experienced instructor.
* May's theme: Incredible Ink – Chinese and Japanese artists have perfected the use of ink to create bold calligraphy, dreamy landscapes, and dynamic animals. Look at some examples of ink paintings and discuss how these masterful artists use light and shadow to make images that stand out. Then, make your own ink paintings.
* Online classes meet via Zoom.s and more as the class looks at examples of patterns in art. Then design your own repeating patterns.
* Online classes meet via Zoom.
* If you would like to receive a materials kit, please make sure to provide a mailing address when you purchase your ticket.
Fees Apply, registration is required to www.mfa.org/programs/community-programs/beyond-the-spectrum or artfulhealing@mfa.org or 617-369-4027.