When:
December 11, 2020
all-day
2020-12-11T00:00:00-05:00
2020-12-12T00:00:00-05:00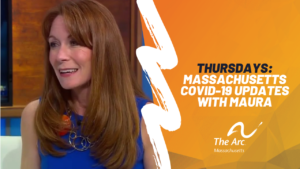 Webinar, December 11th, 2020.  Part of the Arc of Massachusetts COVID-19 Updates "Latest Policies & Departmental News" Webinars, with Arc of Massachusetts Director of Government Affairs Maura Sullivan. Join Maura for updates on the latest policies and departmental news relating to the COVID-19 crisis in Massachusetts.
* December 11th Topic – Operation House Call: Presented by Maura Sullivan, Director Operation House Call.
* The Arc's Operation House Call program uses families and individuals to teach doctors how to provide better care for people with intellectual and developmental disabilities and autism. In this webinar the Arc will flip the focus.
* How can families and individuals do their part to improve medical care, partner with doctors and make sure their needs are met.
* Explore how individuals and families prepare for healthcare transition.
* These weekly summaries are part of the The Arc of Massachusetts weekly, half-hour webinars and Q&A sessions where they provide you with up to the minute updates on federal and local policies and programs, valuable resources and information, and more.
All Dates and Times: TBA
* Register for these new series and stay up to date with our COVID-19 Updates Center, where they will be sharing the latest information as it becomes available
Register to The Arc of Massachusetts https://thearcofmass.org/post/the-arcs-covid-19-updates-the-arc-launches-weekly-webinar-series  or contact (781) 891-6270 arcmass@arcmass.org