When:
2023-04-09T00:00:00-04:00
2023-04-10T00:00:00-04:00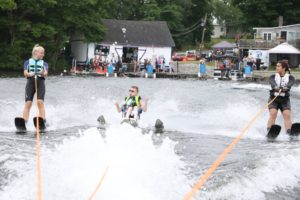 Lake Quinsingamond, MA, August 9th, 2023, with the Webster Water Ski Collective. * This event may be sold out – please check with the host. For any disability, ages 3-24 with disabilities skiing for the first time.
The event will be limited to 24 (ish) skiers, with a separate morning and afternoon session. A $40 refundable deposit will be required to hold your spot (the event itself is FREE).
All Volunteers And Participants Must Have Proof Of Covid Vaccinations.
* * The adaptive ski event will allow members of the disabled community to participate in water skiing using specialized equipment with trained and certified adaptive ski instructors assisting them.
* This Water Ski Event will allow 25 kids and young adults aged 3 – 26 with various disabilities including spinal bifida, cerebral palsy, down syndrome, blindness, autism and epilepsy the chance to water ski with trained instructors on Lake Quinsigamond.
To register or for more information visit www.websterwaterski.org/events/lake-quinsigamond-adaptive-ski-day-august-9-2023/   or contact  508-944-9793 – WebsterWaterSki@Gmail.com.