When:
July 23, 2022 – August 30, 2022
all-day
2022-07-23T00:00:00-04:00
2022-08-31T00:00:00-04:00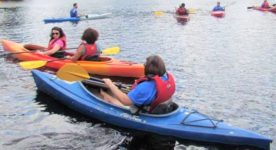 Adaptive Kayaking in Concord,  Goshen, Natick, Worcester, July 6th – August 30th, 2022.  The State of Massachusetts DCR Universal Access program offers adaptive and accessible kayaking in state parks.
* Goshen, Natick & Worcester: Join All out Adventures for kayaking across Massachusetts! Kayakers will paddle together in a small pod.
* There will be 1 hour 15 minute timeslots to allow for time to get set up and recreate on the water.
D.A.R. State Forest, Goshen, Wednesdays, July 6 – August 24

Cochituate State Park, Natick, Tuesdays, July 12- August 2

Quinsigamond State Park, Worcester, Tuesdays, August 9 – August 30
To sign for All Out Adventures, contact (413) 584-2052 or alloutadventures.org – click on Register for a Program.
Concord – Kayak with Waypoint Adventure – Enjoy small group kayaking at historic Walden Pond and Charles River with Waypoint Adventure. Experience the fun and serenity of being on the water while being part of
a supportive community. 
Walden Pond, Concord, Thursdays, July 7 – July 28, Tuesdays, August 2 – August 23

Charles River, Saturday, July 9, Saturday, August 13
To Signup for WAYPOINT ADVENTURES: $20 per participant. Cost flexible based on need. One parent/friend/PCA of a program participant with a disability can attend at no charge.
* For details or to register visit www.waypointadventure.org/  and click Sign Up For A Program.