When:
January 16, 2023 – March 26, 2023
all-day
2023-01-16T00:00:00-05:00
2023-03-27T00:00:00-04:00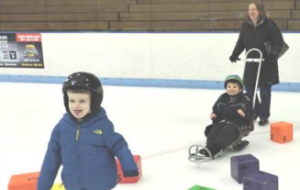 East Boston, Holyoke, Worcester & Across Massachusetts, January – March 2023, with the State of Massachusetts DCR Univeral Access Program and All Out Adventures.  Free. Lace up a pair of conventional skates or slide around the ice on your manual or power wheelchair.
* Ice sleds are also available to glide around—propel yourself with small hockey sticks or be pushed around the rink by a friend.
* Depending on location, activities on the ice include obstacle courses, a tower of blocks for building up and crashing down, races, colorful balls and pucks to shoot around, power chair games, and gently competitive hockey matches.
East Boston, Holyoke, Worcester – Free Admission and Equipment:
Fitzpatrick Skating Rink – Holyoke, MA. March 5, 12, and 26
Buffone Skating Rink – Worcester, MA. January 16, February 27, March 20
Porrazzo Skating Rink – East Boston, MA, January 18, February 15, March 15
* Ice sleds, skate walkers, helmets, ice grippers, and ice skates are available.
To register or for more information contact All Out Adventures at 413-584-2052 or e-mail Kristen.Rhodes@mass.gov
Additional Locations that offer Adaptive Skating: 
EHO -Charlestown

Steriti – Boston

Devine – Dorchester

Murphy – South Boston

Bajko – Hyde Park

Reilly – Brighton

Kelly Outdoor – Jamaica Plain



Check this link for more information on days and times: https://www.mass.gov/info-details/dcr-ice-skating-rink-schedule