When:
2020-10-22T00:00:00-04:00
2020-10-23T00:00:00-04:00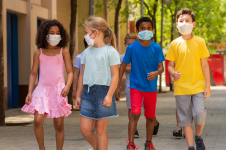 Webinar, October 22, 2020, 11 a.m., with the Massachusetts Down Syndrome Congress. Part of the MDSC's Virtual Educators Forum Series, which aim to provide information and resources for school-aged youth to ensure that students with Down syndrome and other intellectual or developmental disabilities receive the best education possible.
*  For Family Members, General and Special Educators Pre-K to 12, and ALL Related Service Providers and Education Professionals.
TOPIC: "From Text Maps to Memory Caps": 10+ Supports for School and Home. With Paula Kluth, PhD, Consultant. This idea-filled workshop has just been revised to include supports appropriate for e-learning.
* Educators will learn ways to engage, motivate, and inspire a diverse group of students by creating classroom games (e.g., match game), study aids (e.g., walk-it-to-know- it), visual support (e.g., social slam book), teaching tools (e.g., curriculum cards) and review materials (e.g., stackables).
* Most of the featured are "make and take", inexpensive to create, and useful for meeting a wide range of needs.
* This webinar is focused on ideas teachers can use immediately and features shortcuts for making materials and for getting them into the hands of students at school or in the home.
* PDP certificates are offered to registrants.
* If you register for a webinar but are unable to join live, you will have access to the recording.
To register or for more information visit https://register.gotowebinar.com/register/5265828775820667660 or contact education@mdsc.org.