When:
2021-05-01T00:00:00-04:00
2021-05-02T00:00:00-04:00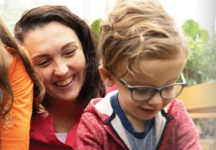 Online, May 1st, 2021, with Perkins School for the Blind in Watertown, MA. Free. The Early Connections Virtual Conference is designed for families of children with visual impairment, birth to 7 years old, and the professionals who support them.
* Families can connect, talk to experts and learn new skills that apply at home and in the classroom to help each child reach their full potential.
Event Topics will include: 

Active Learning
CVI Assessment
Early Intervention Today
Feeding & Mealtime Considerations
Infant Toddler TeleHealth
Total Communication
Registration is required to www.perkins.org/get-involved/events/early-connections  or contact Info@Perkins.org, by phone, 617-924-3434
Speakers and Sessions for the 2021 Conference:
Keynote: I can do hard things: Speaker: Rachel Bennett, M.Ed., CVI Certificate, Content & Community Manager at CVI Now.
Early intervention today: Speaker: Dr. Linda Lawrence, Pediatric Opthamologist. Dr. Linda Lawrence specializes in Early Intervention, pediatric low vision and multiple disabilities. She has a solo ophthalmology practice and is a consultant for the Kansas State School for the Blind. She is past chair of the AAPOS committee on Pediatric Low Vision Rehabilitation, which focuses on children with MDVI and neuro-developmental delays, and a member of the AAO committee on Low Vision Rehabilitation.
"Total communication for young deafblind learners" – Speaker: Megan Connaughton and Amanda Toczylowski, teachers in the Deafblind Preschool Program at Perkins School for the Blind. Explore the Total Communication learning environment in a Deafblind preschool classroom.
 "Cortical/Cerebral Visual Impairment (CVI): Addressing visual skill development within play-based activities and natural routines" – Speaker: Marguerite Tibaudo, Assistant Director, CVI Project at Perkins School for the Blind. This presenter will discuss the importance of addressing visual skill development through motivating play-based activities and naturally occurring routines. The information provided will blend promising practices from the field of CVI and evidence-based practice surrounding early childhood development.
"Feeding & mealtime considerations" – Speaker: Elizabeth Torrey, Speech and Language Pathologist, Assistant Education Director at the Early Learning Center and Lower School at Perkins School for the Blind. Most children experience difficulty with eating at some point, but when should caregivers become concerned? This presentation will review factors that influence the development of feeding and mealtime skills and will provide strategies for improving those skills.
"Parent partnerships: Understanding the visual behaviors of CVI" – Speaker: Ellen Mazel, M.Ed., TVI, Deafblind Specialist, Director, CVI Project at Perkins School for the Blind. Each child's unique CVI manifestations are based on the location impacted in the brain, based on how that unique brain learns and rewires and based on the unique visual experiences of that child. Every tool for the accurate assessment of children with CVI depends heavily in parent/caregiver information. Parents hold vital information about their child's visual skills across the day, across multiple kinds of environments and across their child's lifetime. This presentation will explore that essential partnership and help illustrate how the parent information supports all the CVI assessment areas.