When:
February 29, 2020
all-day
2020-02-29T00:00:00-05:00
2020-03-01T00:00:00-05:00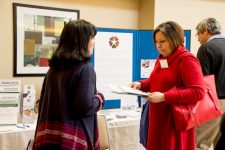 Boston, February 29th, 2020. The Federation for Children with Special Needs annual statewide conference "Visions of Community, a Conference for Parents of Children with Special Needs and the Professionals Who Serve Them".
* 2020 Conference info will be updated on the FCSN in early 2020.
For more information visit https://fcsn.org/voc/
The information below describes the 2019 conference.
* Keynote speakers will be Hasan Davis and Andrew Robers.
** Speaker Hasan Davis knows struggle. He received early diagnoses of ADHD and Dyslexia, attended multiple schools, was arrested at 11, and eventually expelled from high school. However his team of advocates, including his mother and a  school administrator, encouraged Hasan to go on and earne his G.E.D., B.A. in Communications, and a Law Degree. He is now a national leader in Juvenile Justice and a champion of Inclusive Education. Hear his  inspirational story of transformation and reminder to others of the importance of support to those that need it. 
* Speaker Andrew Roberts is a 15 year old freshman in high school who was diagnosed with autism before the age of 2. He loved letters and numbers, and by collecting of baseball cards, came to be a fan and learned the Red Sox starting lineup. In 2009, he read the lineup on TV for NESN as a junior announcer and started his own sports blog, Boston Sports Mania. Though he requires support to help him accomplish his goals, Andrew continues to exceed expectations. 
Workshops: Attend your choice of workshops about assistive technology, Autism, IEP goal-setting, self-care, transition planning, and much more.

Meet Federation staff and learn about all the projects at the Federation. 

Sessions in English, Español, Português, 中文 (Chinese), Tiếng Việt (Vietnamese), Kreyòl Ayisyen (Haitian Creole), Somali, and عربى (Arabic)

Visit exhibit hall with parent organizations, vendors, and lots of FREE resources. 

For more information visit https://fcsn.org/voc/
Scholarships are available – please email voc@fcsn.org or call (617) 236-7210  
2019 Workshop Descriptions:
Applying the Results of Neuropsychological Evaluations. Dawn Burau and Daniel Reinstein: Community Therapeutic Day School.
Executive Functioning: How to SPOT It and SUPPORT It. Elise Wulff: MGH ASPIRE program.
A Lifeline to Inclusion- Wraparound Services. Kenia Franjul, LICSW: Assabet. Learn about wraparound services, why they work, the process of launching a wraparound program in a school,  and how to develop strategies to building community relationships.
IHCPs: What Families Need to Know! Mary Ann Gapinski: Massachusetts Department of Public Health Individualized Health Care Plans: What they are, and how families can work with school nurses to build trust and a strong plan of care.
 Mental Health First Aid. Patricia Graham: Hartford Hospital / Institute of Living, Samantha Crowley: MSW Candidate, CT Recovery Specialist.
Supporting Families of Students with Autism During Transition. Victor Hernandez: Massachusetts Department of Developmental Services. Explore how DDS and the MA Autism Commission supports for students with Autism during the transition years
Technology Intervention & Dyslexia. Kelsey Hall: UMass Amherst. Information and demos about the integration of technology into traditional multi-sensory literacy instruction.
Reading on your IEP: A Parent's Guide to Effective Goals Nancy Duggan: Decoding Dyslexia MA & Danielle Pimenta: Framingham Public Schools.  Review how reading progress is measured, the Essential Components of Reading Instruction (ECORI), and strategies for deciding whether a program or method is a match for your child.
We've Got the Diagnosis – Now What? Jason Fogler, PhD: Boston Children's Hospital & Neal Goodman, MS: Massachusetts Department of Developmental Services . Families and professionals can maximize children's classroom learning during everyday activities at home and in the community. Explore routines and materials, conversations, and learn how to use social stories.
IEP and Schoolwide Strategies to Prevent Bullying. Johanne Pino: Massachusetts Advocates for Children