When:
February 29, 2020
all-day
2020-02-29T00:00:00-05:00
2020-03-01T00:00:00-05:00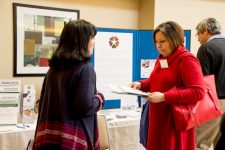 Boston, February 29th, 2020. The Federation for Children with Special Needs annual statewide conference "Visions of Community, a Conference for Parents of Children with Special Needs and the Professionals Who Serve Them".
Keynote: Amy Kennedy – Education Director of The Kennedy Forum.
Youth Keynote: Maximo Pimental – Maximo is a former Massachusetts Advocates for Children fellow where worked special education advocacy. Maximo is completing a Human Services and plans to become an advocate for youth with disabilities.
Plus…
Pam Nourse – Executive Director Federation for Children with Special Needs
Marylou Sudders – Secretary, U.S. Department of Health and Human Services
Monique "Monie" Johnson: Mom of a nonverbal autistic daughter, Monique is also the the power behind the You Tube and Instamgram Bostongirltv platforms, which are places of encouragement for autism parents.
Laurie McCarron – Laurie is a parent support leader and executive board member of the Chelmford Special Education Parent Advisory Council, and serves on the state's SEPAC. Laurie also cofounded PAC-to-PAC, a networking group for SEPAC leaders.
Angela Ferreira – Angela Ferreira's advocacy began with the birth of her oldest son who is now 23. In September of 2016 the Regional SEPAC Leadership group was created and SEPAC leaders have been connecting and growing via Facebook and regional meetings ever since.
Workshops: Attend your choice of workshops about assistive technology, Autism, IEP goal-setting, self-care, transition planning, and much more.

Meet Federation staff and learn about all the projects at the Federation. 

Sessions in English, Español, Português, 中文 (Chinese), Tiếng Việt (Vietnamese), Kreyòl Ayisyen (Haitian Creole), Somali, and عربى (Arabic)

Visit exhibit hall with parent organizations, vendors, and lots of FREE resources. 

For more information visit https://fcsn.org/voc/
Scholarships are available – please email voc@fcsn.org or call (617) 236-7210  
2020 Workshop Descriptions:
 College Navigator – Beginner
 Expressive Arts For All Children(A Sense Of Belonging
 Understanding and Building Social Competency in Childhood
 Top 10 tips for Toddlers to Teens: Building Foundations for Independence and Inclusion
 Behavior IS Communicating: Increasing Positive Interactions Through the Development of Meaningful Communication for Young "Deaf Plus" and Complex Hearing Children
Service Dogs: Changing the Lives of Children with Disabilities
 A Family Member's Perspective
 Making Decisions About and Coping with Residential Placement
 What Is Family TIES?
 ABLE: A Tool For Financial Independence
A1. الاسعافات النفسية الاولية
C1. IEP: 了解IEP及準備IEP會議
HC1. Sante Mantal ak Maladi Mantal
P1. O que pais precisam saber sobre vaping e cigarros eletronicos
S1. Waxbarshada dhaafsiisan iskuulka godahiisa: Siyaaabaha waridiinta ukobcin karaan ama uga qayb qaadan karaan waxbarshada caruurtooda. Waayo waalidka waa macalinka koobaad. Qaybta Labaad 1
E1. Salud de los inmigrantes: cómo las políticas de inmigración afectan la salud de la población
V1. Từ Góc Nhìn Của Người Trong Gia Đình
 Neurodiversity and Disclosure for Transition Aged Individuals (14-22 y.o.) with High Cognitive Autism
 When Hearing Loss Is a Part of Your Child's Puzzle
 Key Special Education Law Updates
 Is this ADHD and What do I do?
Relationship And Sexuality Education For People With IDD: The Whole Selves Approach
 Childhood Trauma: What Is It and How Does It Affect Children?
 Senses and Sensibilities: An Inside View on Recognizing and Supporting Individuals with Sensory Issues
 Rights of Immigrants and Refugees with Disabilities in Schools
 2020 Census 101; A Critical Resource of Funding for Special Needs
A2. مقدمة في تحسين الجودة في الصحة النفسية
C2. 如何與老師溝通-這是一種平衡.
HC2. Kisa paran bezwen konnen sou edikasyon espesyal pou ede pitit mwen reyisi lekòl
P2. Pais Atuando como Advocates
S2. Waxbarshada dhaafsiisan iskuulka godahiisa: Siyaaabaha waridiinta ukobcin karaan ama uga qayb qaadan karaan waxbarshada caruurtooda. Waayo waalidka waa macalinka koobaad. Qaybta Labaad 2
E2. Teniendo acceso a los recursos genéticos para niños con necesidades especiales
V2. Giáo Dục Về Quan Hệ Và Giới Tính Cho Người Chậm Phát Triển Trí Tuệ: Phương Pháp Toàn Thân
How Important Is IQ in Understanding This Child?
 Thinking Ahead and Empowering Families: Preparing Early for Life After High School
 Behavioral Self-Management: An Effective Strategy for Individuals of All Ages
From Inclusion to Belonging
 Creating a Vision for Your Child's Best Life
The IEP at Home: Getting Your Child Ready for Successful Learning
Supporting Neurodiverse Adults Transition into the Workforce
 How to Advocate for Your Child
How to Plan Your Finances When You Have a Special Needs Child
A3. استراتيجيات للتعامل مع الاطفال الذين يعانون من حركه زائده وتشتت
C3. 增进家庭关系中的情感纽带
HC3. Swen pou tet ou pou paran ki gen timoun avek bezwen espesyal
P3. CUIDAR DE SI MESMO – Técnicas sustentáveis de auto-cuidado para lidar com o stress.
S3. Daryeelka Nafta Gaar ahaan Walidka Haysta Caruurta Naafada ah
E3. Conversaciones valientes y prácticas de curación de traumas en las escuelas
V3. Giới thiệu Chánh Niệm Trong Việc Nuôi Dạy Con