When:
2019-10-10T00:00:00-04:00
2019-10-11T00:00:00-04:00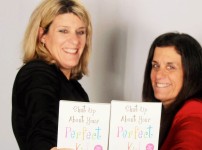 John T. Nichols, Jr. Middle School, Middleboro, MA, October 10th, 2019. Hear Gina Gallagher and Patricia Terrasi, local authors of the book, Shut Up About Your Perfect Kid, A Survival Guide for Ordinary Parents of Special Children, and founders of the Movement of Imperfection.
* This humorous and hopeful presentation will have you laughing out loud and celebrating the joys, gifts, and milestones of raising children with unique challenges.
Learn to:
• Use laughter as a powerful coping technique.
• Break stigma.
• Connect with other special needs caregivers.
• View the joys and gifts in raising special children.
• Let go of parental expectations and love the reality.
The Massachusetts-based authors speak at parenting, mental health, and educational conferences around the country. They are creators of a worldwide Facebook community with nearly 900,000 special needs parents, caregivers, and clinicians from around the world. The Sisters are recipients of the National Alliance on Mental Illness "Heroes in the Fight Award" for advocating for those living with persistent mental illness.
Fees apply, reservations required //www.eventbrite.com/e/shut-up-sisters-presented-by-the-middleboro-sepac-tickets-65120127053 or contact the Middleboro Special Education Parent Advisory Council president@msepac.org.
To book the authors at your next event please contact 508-303-3424 or sharon58@comcast.net