When:
November 18, 2020
all-day
2020-11-18T00:00:00-05:00
2020-11-19T00:00:00-05:00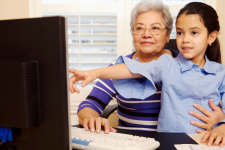 Webinar, November 18th, 2020, 11 a.m., with the Massachusetts Down Syndrome Congress. Part of the MDSC's Virtual Educators Forum Series, which aim to provide information and resources for school-aged youth to ensure that students with Down syndrome and other intellectual or developmental disabilities receive the best education possible.
*  For Family Members, General and Special Educators Pre-K to 12, and ALL Related Service Providers and Education Professionals.
TOPIC: Promoting Independence During Distance Learning: Strategies for School and Community Success. Promoting independence in school and daily activities can be a challenge for all families and educators, especially in times of change.
* In this session, specific strategies for scaffolding independence will be shared, from basic "tried and true" approaches to new opportunities using strategies such as remote audio coaching.
* The presentation will include "how to" methods for getting started with new approaches using everyday items and will also include "next level" thinking about tools for independence and community opportunities.
About the presenter: Rebecca A. Hines, Ph.D., is anAssociate Professor, University of Central Florida.
* PDP certificates are offered to registrants.
* If you register for a webinar but are unable to join live, you will have access to the recording.
To register or for more information visit  https://register.gotowebinar.com/register/3415702550764514572 or contact education@mdsc.org.