When:
2019-10-26T00:00:00-04:00
2019-10-27T00:00:00-04:00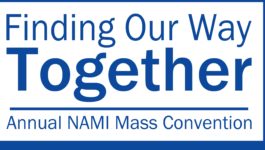 Leominster, MA, October 26th, 2019. The Massachusetts chapter of the National Alliance of Mental Illness's (NAMI) annual convention is for families and those with lived mental health experience. This year's them is  DFinding Our Way Together.
* As of this publishing date 2019 workshops had not been announced. Please visit the NAMI link below for more information. 
2018 Workshops 

Become a Recovery Warrior with MOAR Messaging and Advocacy
Homelessness and Serious Mental Illness: Can Massachusetts Find the Way Home?
Statehouse 101: Tools for Effective Advocacy
The Links Between Childhood Trauma, Mental Illness and Addiction
Introduction to NAMI Massachusetts
The Links Between Childhood Trauma, Mental Illness and Addiction
Introducción a NAMI Massachusetts (en Español – in Spanish)
Communication with Loved Ones: An Open Dialogue Approach
Finding Your Way: Helping Your Family Member Navigate the Criminal Justice System
Gun Violence & African American Mental Health: Strategies for Enacting Change
"I Want to Work": Getting Started, My Rights in the Workplace, Maximizing My Benefits
Abordar el miedo y la desinformación en las comunidades inmigrantes sobre el acceso a la atención médica (en Español – in Spanish)
Affiliate Advocacy Representative Workshop (by invitation only)
To register or for more information visit  https://namimass.org/nami-mass-convention/   or contact 617-580-8541 x 202 aalimayu@namimass.org