When:
2021-03-27T00:00:00-04:00
2021-03-28T00:00:00-04:00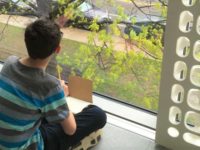 Online only, March 27th, 2021, with the Boston Museum of Fine Arts. For teens with Autism Spectrum and Aspergers Disorders ages 13 to 18.
* Focus on specific art topics and incorporate discussion, critical inquiry, and sketching in the galleries. Students then work independently on a project with guidance from an experienced instructor.
March's theme: Prints and Patterns – Why are artists so fascinated by repeating shapes? What are the artistic and cultural meanings of different types of patterns? Why do we see the same patterns in art from many different parts of the world? Join in and discuss these questions and more as the class looks at examples of patterns in art. Then design your own repeating patterns.
* Online classes meet via Zoom.
* If you would like to receive a materials kit, please make sure to provide a mailing address when you purchase your ticket.
Fees Apply, registration is required to www.mfa.org/programs/community-programs/beyond-the-spectrum or artfulhealing@mfa.org or 617-369-4027.