When:
2021-02-03T00:00:00-05:00
2021-02-04T00:00:00-05:00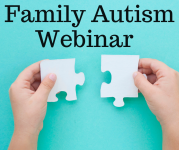 Webinar, February 3, 2021, with UMass Lowell. Free and open to the public. The UMass Lowell Center for Autism Research and Education (CARE) Online Expert Speaker Event will feature "Autism Insurance: Advocacy and Beyond."
*  The speaker will be Amy K. Weinstock. Amy is Director of the Autism Insurance Resource Center at the University of Massachusetts Medical School's Eunice Kennedy Shriver Center; Instructor, Department of Psychiatry, University of Massachusetts Medical School. Amy is also the parent of a child on the autism spectrum, decided to merge her personal passions and professional experience.
* Amy Weinstock will discuss how grassroots advocacy efforts changed the system of care for people with autism. The presentation will also include current information on insurance coverage for autism, and advice for families and providers.
* This event is co-sponsored by UMass Lowell's Master of Science in Applied Behavior Analysis and Autism Studies and the UMass Lowell Interdisciplinary Minor in Disability Studies.
For the Zoom link, contact Ashleigh Hillier, Ph.D.
Professor, Department of Psychology, Ashleigh_Hillier@uml.edu to register and receive the link.