When:
2019-07-23T00:00:00-04:00
2019-07-24T00:00:00-04:00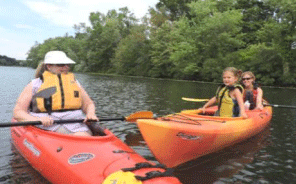 Concord, MA, July 23rd, 2019. Accessible and adaptive kayaking with the DCR Universal Access Program and Kayaking with Waypoint Adventure Greater Boston Area.
** Please inquire with the host regarding exact ages and times for this offering.
Strengthen your kayaking skills during a two-hour exploration. Adaptive equipment and motivating instructors will make your paddling experience a memorable one.
Fees apply.
To RSVP contact Waypoint Adventure: sdastous@waypointadventure.org or 781-325-7980 ext 185 or  eturpin@waypointadventure.org or 781-325-7980 ext 184 or visit www.mass.gov/eea/agencies/dcr/massparks/accessibility/