When:
March 14, 2020 – April 25, 2020
all-day
2020-03-14T00:00:00-04:00
2020-04-26T00:00:00-04:00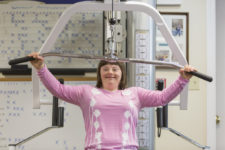 Agawam, MA, Marc – May, 2020. For any one with a physical disability that is 12 years old or older. Learn ways to strengthen your body along with pushing your personal limitations. This is an adapted version of CrossFit Training, which incorporates elements from high-intensity interval training, weightlifting,  powerlifting, gymnastics,  calisthenics, and other exercises.
Fees apply, registration is required to the Center for Human Development (CHD) https://chd.org/adult-services/community-based-programs/disability-resources/adaptive-sports-activities/ or contact JLevine@chd.org (413) 788-9695.