When:
2017-05-19T00:00:00-04:00
2017-05-20T00:00:00-04:00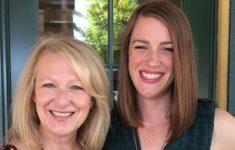 Marlborough, May 19th, 2017. The Parent Professional's Advocacy League's annual family mental health conference will feature a Keynote address by Linea and Cinda Johnson, authors of "Perfect Chaos: A Daughter's Struggle to Survive Bipolar and A Mother's Struggle to Save Her." There will also be workshops and exhibitor tables. 
About the speakers: 
   Dr. Cinda Johnson is a professor and the director of the graduate special education program at Seattle University, and director for the Center for Change in Transition Services. Dr. Johnson is the co-author of Perfect Chaos: A Daughter's Journey with Bipolar, A Mother's Struggle to Save Her.
   Linea Johnson is a national mental health advocate, speaker, writer and co-author of Perfect Chaos: A Daughter's Journey with Bipolar, A Mother's Struggle to Save Her. She currently works as a research assistant at Harborview Medical Center in Seattle, the very hospital where she was initially hospitalized. She is also the associate producer of the world mental health documentary, Hidden Pictures.
For more information about RSVPs and fees, please contact conference@ppal.net 617-542-7860 or visit http://ppal.net/.   Workshop Descriptions: 
Eye of the Storm: Reconceptualizing Trauma in Individuals 

with Eating Disorders. 

Presenter: Rachel Benson-Monroe, LMHC. 

This presentation offers hands-on strategies to holistically 

guide people with trauma and eating disorders to recovery.

Demystifying the Neuropsychological Evaluation – 

Presenter: Ann Helmus, PhD. 

The components of an evaluation and understanding the results 

will also be covered. Specific suggestions will be 

given as to what to look for in seeking one.

Talking with Youth about Marijuana. 

Presenter: Jordana Willers, EdM. A

n overview of the latest data and current 

trends of marijuana use among youth, research on marijuana 

and the teenage brain, perceived benefits, short-term vs. 

long-term effects of use, cannabis use disorder (facts about 

marijuana and addiction), and ways to engage youth to 

promote open, positive communication in order to reduce substance




misuse. Information about how to access treatment and recovery 

resources for youth and young adults




will be provided as well.

Why Does My Child Behave Like That? Practical Strategies for  

Raising Your Child on the Autism Spectrum. 

Presenter: Brenda Dater, MPH, MSW, 

author of Parenting without Panic and 

Associate Director at the Asperger/Autism Network.

 

Learn why your child's challenges exist and the variety of ways 

you can support your child's growth and development. Also walk away with 

a better understanding of your own triggers and how to become a more 

resilient parent and family.

Spirituality, Religion and Mental Health – 

Proyecto Acceso a la Educación Especial – 

Presenter: Diana Santiago, Esq. 

Los padres de niños y jóvenes con necesidades especiales 

(o discapacidades) pueden tener dificultades para conseguir la 

ayuda que sus hijos necesitan. Para familias con diferencias de 

cultura e idioma, puede ser aún más difícil tener acceso a estos 

servicios. Las leyes de educación especial protegen los derechos 

de niños y jóvenes con necesidades especiales. Proyecto Acceso 

a la Educación Especial ayuda a padres Latinos a entender esas 

leyes y sus derechos. El conocer sus derechos le puede ayudar 

en la abogacía de su hijo/a.

'You can't make me go!": Assessment and Treatment of 

School Avoidance in Children and Adolescents




Presenters: Nathan Doty, PhD and Brian Willoughby, PhD. 

Often the causes of school 

avoidance are difficult to identify and treat. Drs. Doty and 

Willoughby will

will discuss common clinical issues that lead to school




avoidance, how to identify these issues and how to help 

access the help that is needed. The presentation will be 

followed by a Q&A session and discussion.

Hearing Voices – 

Presenter: Natan Cohen and guest. 

The Hearing Voices Network offers a non-pathologizing, open 

way of understanding and supporting people through the 

experiences of hearing voices and holding unusual beliefs.  L

earn more 

about how the Hearing Voices approach can reorient how 

we relate to these experiences.

Trauma, Children and Strategies to Help Them – 

Presenter: Stephanie Monaghan-Blout, PsyD. 




Promoting Social Change through Social Media. 

Presenters: Kelley Chunn and Christina Maryland. 

This interactive workshop provides guidance and best 

practices to better understand creating meaningful change




and influence through strategic use of social media. We will 

outline different types of popular social media: Twitter, 

Facebook, YouTube, and community forums, such as Reddit. 

By providing case studies of best practices or lessons learned, 

we will educate attendees about the power of social media 

influence and how these tools can be effectively used to 

advocate issues of concern and promote the best image of 

themselves and families. We also will discuss the implications 

of using social media to share too much information or engage 

in cyber wars.

Terapia cognitiva basada en la atención plena (MBCT) 

Presenter: Thomas Serrano, PhD, LMHC 

Grupo para prevenir la depresión y reducir el estrés 

El MBCT es un grupo psicoeducativo donde se enseñan 

las habilidades de atención plena. Estas habilidades pueden 

reducir las constantes preocupaciones y el efecto de los 

pensamientos poco saludables que crean ansiedad y depresión. 

El principal objetivo de MBCT es prevenir la recaída en la 

depresión, la ansiedad y el estrés. Los estudios psicológicos 

demuestran que la mayoría de los participantes del grupo 

MBCT educen la recurrencia y la intensidad 

de los síntomas de depresión y ansiedad (tenga en 

cuenta que para lograr los beneficios deseados 

debe participar en 8 sesiones y practicar los 

ejercicios dados en casa). Los participantes 

tendrán dos sesiones de seguimiento, un mes 

y tres meses después de la finalización del grupo.