When:
January 14, 2020 – March 3, 2020
all-day
2020-01-14T00:00:00-05:00
2020-03-04T00:00:00-05:00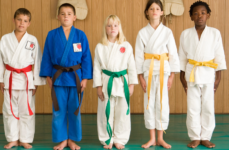 Brookline Recreation Department, September 10th – November 11th, 2019. For individuals with special needs ages 5 -8 and 9 – 12. Brookline Recreation and Viking Adaptive Martial Arts are offering an adaptive martial arts program for individuals of all abilities.
* The goal is to empower and provide students who experience a variety of environmental, physical and cognitive challenges with the benefits of martial arts.
* The program is individually tailored to meet the student's needs. Marital arts training teaches balance, focus, self-awareness, core strength, spatial awareness and discipline.
* Students earn rank at their own pace with a testing format best suited for their success.
Fees apply, registration is required to www.brooklinerec.com/190/Recreation-Therapy or mbarshay@brooklinema.gov or call 617-730-2069.