When:
2019-01-17T00:00:00-05:00
2019-01-18T00:00:00-05:00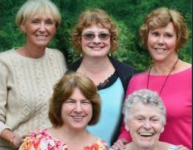 Holyoke, January 17th, 2019. This free event is for those that are a RTSC Special Education Surrogate Parent, PCTI trained Parent Consultant or SEPAC Officer for your schools special-education parent advisory council.
* Network Series brought to you by: Recruitment, Training and Support Center (RTSC), Parent Training and Information Center (PTI), and MassPAC programs of the Federation for Children with Special Needs.
* About the speaker: Anne Tucker Roberts is a teacher and writer, who taught adolecents with developmental disabilities. After 12 years in this position, she was recognized as a Master Teacher and awarded a "Golden Apple" for professional excellence. After Anne left this her career to care for elderly parents, she wrote memoirs and completed two books. This book is the result of a new collaborative work between Anne and five remarkable mothers. Anne continues to work as a guardian to four women with developmental disabilities, and lives with her husband in Massachusetts.
To RSVP or for more information visit https://fcsn.org/rtsc/network-series/  or contact info@fcsn.org