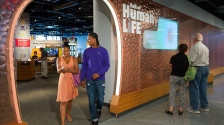 The Museum of Science, Boston, is looking to create a list of interested individuals whom they can contact to help test and give feedback about Museum experiences (exhibits, programs, etc.) * Your feedback is meant to help make the Museum better for everyone.
* Get a behind-the-scenes glimpse of the work they do.
* Each project will be a little different, and could last anywhere from 30 minutes to an hour.
* These may include either on-site or virtual experiences, although for now many of these sessions will be virtual as they develop new experiences during the pandemic.
* The museum will send out additional details when they are looking for participants, and if you're only interested in one type of activity (remote vs. in-person), you can indicate as much on this survey.
* When the Museum of Science is ready to do testing, they will refer to this list to invite people to help us out.
* The information you provide on this form will be held in confidence by the Museum of Science's Research & Evaluation Department.
* Your information will only be used to ask if you would like to help test our exhibits or programs.
* Your information will not be added to any other lists or databases in the Museum that solicit donations or send marketing materials.
* While it varies from project to project, as a thank you they typically compensate participants $25 per group, per session for their time.
* If testing takes place on-site, you and your group will also receive free admission to the Museum of Science exhibit halls and free parking in the Museum of Science garage.
* For more information visit http://bit.ly/MOSExperienceTesting or email researcheval@mos.org.