When:
August 2, 2021 – September 27, 2021
all-day
2021-08-02T00:00:00-04:00
2021-09-28T00:00:00-04:00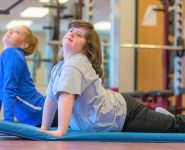 Virtual online All Abilities Yoga Class, August 2nd – September 27th, 2021, with a Family Support Center in Bridgewater, MA. For special-needs youth and families. Please inquire with the host regarding appropriate ages for this class.
* Yoga Out Loud encourages people of all abilities, shapes, and backgrounds to move mindfully with breath while also connecting with their voice. Everyone has a unique body and a unique voice. When we practice linking the two together, we become stronger and more connected.
* The voice and instruments of the music teacher and yoga instructor Martha Robertson are an integral part of this 40-minute group.
* Those with mobility limitations are encouraged to participate and to adapt to meet their specific needs.
* Sponsored by Bridgewell Family Support and Riverside Family support.
To register or for more information visit https://bridgewell.org/disability-services/autism-services/family-support-center/?tribe_events    and scroll to the calendar OR CONTACT 781.593.1088.