When:
2020-03-21T00:00:00-04:00
2020-03-22T00:00:00-04:00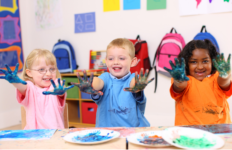 Boston, MARCH 21st – CANCELLED. Please visit the museum's web link below for more information. A welcoming, inclusive museum tour, story time and play date for children 4 and younger and accompanying adults to engage with art at the Museum. Completed tours will return to a quieter, low-lit gallery for toddler art making activities. Play dates include:

Specially trained teachers
Sensory-friendly educational materials
Designated "take a break" spaces
Social story to prepare for a visit
Communication supports
Headphones, fidget toys, and lap desks upon request
*  Tours leave on a rolling basis starting at 10:15 am. No registration required.
*  Each month focuses on a specific theme.
*  Program is included with Museum admission, no registration is required.
*  All galleries are stroller accessible; please plan on bringing your stroller on your tour.
*  All galleries are accessible by elevator.
DATES: January 18, 2020; February 3, 2020; February 15, 2020; March 21, 2020; April 6, 2020; April 18, 2020; May 16, 2020; June 1, 2020; June 20, 2020
For all dates and more information visit www.mfa.org/programs/gallery-activities-and-tours/mfa-playdates?utm_source=%28direct%29&utm_medium=offline&utm_campaign=playdates or contact nlopes@mfa.org or access@mfa.org, or 617-267-9300 or 617-369-3188 (TTY).