When:
2023-10-28T00:00:00-04:00
2023-10-29T00:00:00-04:00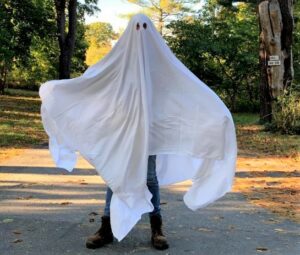 Hingham, MA, October, 2023, with the Weir River Farm. The Sensory-Friendly Boo in the Barnyard offers a dedicated hour with a reduced number of guests and quieter sensory-friendly environment. Any family that would benefit from a limited capacity visit is welcome.
* Wear your costume and meet Nutmeg the pony, Ruby the llama, Poppy the goat, and Dixie the potbellied pig, as well as sheep and herd of cattle.
* Take part in a festive scavenger hunt, create a seasonal craft, and enjoy a sweet treat.
* Read an autumn-themed StoryWalk™ along the grassy "chute" on your way to the barnyard. After your visit to the Barnyard, hike the woodland trails surrounding the farm.
* Resources available to prepare for your visit include Story Guide available online. A special sensory kit and visual story guide are available in the barnyard. You may borrow noise-reducing headphones and sensory items from the staff in the barnyard for easier access during your visit. Please note that they have a limited number of sensory kits and headphones available and strongly encourage participants to bring anything they expect to need.
Pre-registration is required for this event to https://thetrustees.org/program/halloween/ and scroll down to your desired dates, or contact South Shore Engagement Manager, Elyssa Scheck, at weirriver@thetrustees.org, with any questions or special requests.