When:
2023-08-25T00:00:00-04:00
2023-08-26T00:00:00-04:00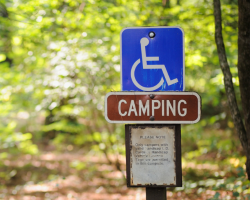 Virtual Event, August 25th, 2023, with the DCR Universal Access Program. Topic – Learn About Universal Access Outdoor Camping in Massachusetts State Parks
The Department of Conservation and Recreation's (DCR) Universal Access Program provides outdoor recreation opportunities in Massachusetts state parks for visitors of all abilities and ages.
* Join them on Zoom at Universal Access Outdoor Connections.
* This is a time to find out about and share your experience with accessible and adaptive programs in DCR Parks.
All 2023 Dates and Topics:
August 25th: Accessible Camping in DCR Parks
September 8th: Accessible Hiking in DCR Parks
September 21st (Thursday): Fall Programs and Opportunities
To register or for more information contact email Kristen.Rhodes@mass.gov for link to attend.