When:
2022-10-17T00:00:00-04:00
2022-10-18T00:00:00-04:00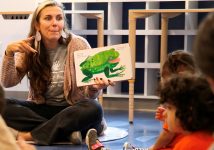 Acton, MA, October 17th, 2022. Come for a special free morning at the Discovery Museum, 9:30 a.m. – 12:30 p.m.
* Come for a special morning at the Museum with Early Intervention groups and other D/HH families while the museum is closed to the general public and headcount is limited.
* Children may play and explore in an ADA-compliant and universally designed museum during this special, free morning dedicated to families with d/Deaf, hard of hearing, and KODA infants and toddlers.
* Playing, exploring, experimenting, and imagining in the museum promotes family conversations and can support early language development for Deaf and Hard of Hearing infants and toddlers.
* ASL interpretation may be available upon request. Advance registration is required.
* The museum will be closed to the public during this event and headcount will be limited.
* KODA refers to a child who is being raised by deaf parents or guardians.
* COVID-19 safety protocols – please visit the link below for the most up to date information.
These Especially for Me events are offered in conjunction with the Deaf and Hard of Hearing Program of Boston Children's Hospital.
Pre-registration is required to www.discoveryacton.org/visit/accessibility-inclusion-especially-me  (scroll down the page to find this event) or contact the Acton Discovery Museums fun@discoveryacton; 978-264-4200.