When:
2022-10-11T00:00:00-04:00
2022-10-12T00:00:00-04:00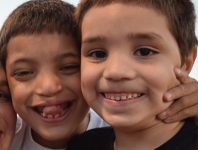 Virtual Support, October 11th, 2022. Free, with Foundation for Faces of Children in Brookline, MA . This event is for parents living in one of the New England states. Parents of ALL craniofacial conditions and across all ages are welcome.
* October Topic: TBA
* MAY 18th Topic: "How to prepare your child for appointments and procedures" with guest speaker Robyn Snyder, a child life specialist at Boston Children's Hospital.
* Child life specialists are members of the healthcare team who work to enhance patients' emotional, social, and cognitive growth during a hospital visit, taking into consideration each child's family, culture, and developmental needs.
* They are trained professionals who focus on the psychosocial needs of children, and promote effective coping with medical experiences through play, preparation, support, and education.
About the speaker: Robyn was a special education teacher and behavior specialist prior to becoming a child life specialist. She has been a child life specialist for 18 years, and has worked at Boston Children's Hospital for 14 years in various clinics, departments, and both inpatient and outpatient units,
7:00 pm EST – Introduction and general discussion
7:20 pm EST – The group will be divided into smaller age-based break out sessions to allow for more in-depth discussions / open Q&A.
Parents can meet and connect with other parents and have a chance to talk, ask questions, support each other and share experiences in a relaxed virtual environment.
* Bring your questions in regards to your child's diagnosis, school issues, newborn care and concerns, emotional challenges and overall parenting issues.
RSVP to  https://docs.google.com/forms/d/1TjcTgQBgLGGA7mn5_DCjfpe0A79r2PfXMQPIixDNrKw/viewform?edit_requested=true   
* The zoom sessions and the discussions are confidential and won't be shared with any organization or third party.
The Foundation for Faces of Children is dedicated to improving the lives of children with craniofacial differences, including cleft lip, cleft palate, and other head and facial differences.