When:
October 19, 2023 – February 29, 2024
all-day
2023-10-19T00:00:00-04:00
2024-03-01T00:00:00-05:00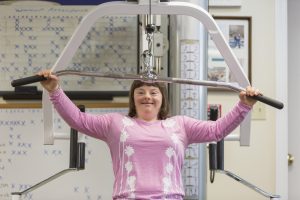 Roxbury, MA, October 29th, 2023, through February 29th, 2024, with the Massachusetts Down Syndrome Congress. Registration for the full 5 months/10 groups is required. Limited space available. Adults with Down syndrome, ages 20+ are invited to participate in a series of ten 45-minute, bi-weekly training sessions.
*A team of expert coaches will work together with small groups of MDSC athletes, designing programs that meet their individual goals and objectives in a fun and motivating fitness environment.
Fees apply, registration is required to https://docs.google.com/forms/d/e/1FAIpQLScXd4PIUToawWCWzr9XqVkrm-Iz9JE2L_P6hfK0h2hDSITUMQ/viewform   or contact bharvey@mdsc.org to learn more.