When:
September 25, 2021
all-day
2021-09-25T00:00:00-04:00
2021-09-26T00:00:00-04:00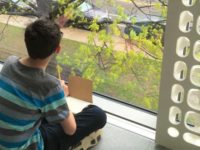 Online only, September 25th, 2021, with the Boston Museum of Fine Arts. For teens with Autism Spectrum and Aspergers Disorders ages 13 to 18.
* Focus on specific art topics and incorporate discussion, critical inquiry, and sketching in the galleries. Students then work independently on a project with guidance from an experienced instructor.
* September's theme: Experimental Monotypes: Learn how artists make and modify one-of-a-kind prints called monotypes. Look at realistic and abstract examples, and then make our own unique experimental prints.
* Online classes meet via Zoom. If you would like to receive a materials kit, please make sure to provide a mailing address when you purchase your ticket. You can update your address information in your MFA account settings.
Fees Apply, registration is required to www.mfa.org/programs/community-programs/beyond-the-spectrum or artfulhealing@mfa.org or 617-369-4027.