When:
December 16, 2023
all-day
2023-12-16T00:00:00-05:00
2023-12-17T00:00:00-05:00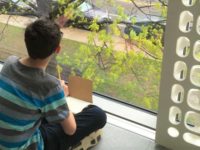 Boston, Museum of Fine Arts, December 16th, 2023. For teens with Autism Spectrum and Aspergers Disorders ages 13 to 18. Focus on specific art topics and incorporate discussion, critical inquiry, and sketching in the galleries. Students then work independently on a project with guidance from an experienced instructor.
December Theme: Creating with Clay! Explore a variety of clay artworks in the MFA's collection, from rustic earthenware to shiny porcelain. Learn about traditional clay techniques and styles from around the world and across history.
* After exploring the galleries, return to the studio to make your own air-dry clay creations. This project will allow us to experiment with new materials and techniques while particpants express yourselves in a 3D way.
*Learn about the rich history of ceramic art and explore your own creative abilities.
Fees Apply, registration is required to www.mfa.org/programs/community-programs/beyond-the-spectrum or artfulhealing@mfa.org or 617-369-4027.