When:
April 3, 2023 – May 15, 2023
all-day
2023-04-03T00:00:00-04:00
2023-05-16T00:00:00-04:00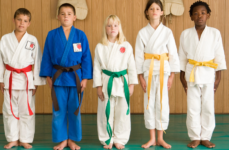 Scituate, MA  April 3rd – May 15th, 2023. All-Stars Karate, for kids with special needs, in grades 1-8, is open to all towns.
* This program's goals are to help children improve balance and coordination; strength, physical and motor skills; self defense; awareness and attention; and patience and determination.
* Students who would enjoy a less formal marital arts curriculum are encouraged to attend.
* Masks required for all participants.
   * Foundation's recreational programs and staffing configurations, they need to set special parameters for participants:
the child participant must be independently ambulatory and mobile
have basic daily living skills for feeding,  toileting and changing of clothes
have the abilities to understand and follow directions
be able to request assistance and have basic verbal skills to communicate with staff and peers.
masks will be required at all programs so all children will be expected to wear them for the duration of the session.
Fees apply, registration is required to https://apm.activecommunities.com/scituaterec/Home  or contact corsefoundation@comcast.net