When:
August 6, 2022 – September 17, 2022
all-day
2022-08-06T00:00:00-04:00
2022-09-18T00:00:00-04:00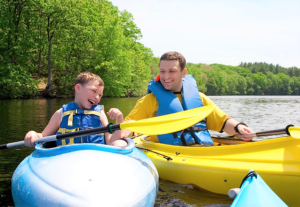 Holyoke, MA, through September 2022. With the Center for Human Development (CHD) in Western Massachusetts. This program is for kids and adults of all ability levels.
* If you need extra assistance they ask that you bring someone to help you get in and out of the kayak.
* Tandem and single kayaks available.
* Life jackets are provided.
* There is a steep paved hill to get to the water.
*Assistance will be available to those that need help in their personal wheelchair (or just need an arm to hold onto).
Registration is required to https://chd.org/programs-services/community-care-support/recreational-activities-for-disabled-adults/activities-for-disabled-adults-western-ma or contact AllIn@CHD.org or call 413-788-9695.