Most folks are thinking about the Fourth of July and summer plans, so inclusive / adaptive recreation in Massachusetts are featured in this week's newsletter. Let's get talking about accessible beaches, parks, recreation, museums and more.
For July & August, find:
• Adaptive Cycling, Sailing & Trike Programs
• Family-Friendly Jurassic Quest Drive-Thru
• Sensory-Friendly Days with Mass Audubon
• Martin Richard Summer Inclusive Basketball
• Inclusive Museum Events
Accessible Beaches & Parks are listed as:
A) Accessible Pools & Spray Decks at State Parks
B) Accessible Beaches/Beach Wheelchairs at State Parks
C) Floating Beach Chairs in local communities
Have a safe and fun Fourth of July holiday! Sharon Marie
Adaptive Summer Sports: In Acton, Boston and Waltham, with Adaptive Sports New England. Find seated and standing adaptations or adaptive paddles for Cycling, Hawaiian Outrigger Canoeing, Kayaking, Stand-up Paddling, Tennis and Windsurfing. Not all sports available at all locations. Each sport is adapted to fit every individual's needs, certified trainers on site...Read more
Massachusetts Accessible Pools & Spray Decks: Outdoor Swimming Pool Lifts are at all of the State Parks and Recreation's pools to provide access to the water. Several pools also have ramps into the water or offer zero-depth entry. Select pools and spray decks also have beach wheelchairs for use. Contact the pool or spray deck to reserve a beach wheelchair or for...Read more
Accessible Beaches/Beach Wheelchairs in Massachusetts: Find sand and sunbathing beach wheelchairs in Massachusetts state parks with the DCR Universal Access Program. You will need to bring your own Coast Guard certified personal flotation device to use a floating beach wheelchair. It is best to call in advance to make a reservation to use a chair, especially... Read more
Martin Richard Challenger "Summer Hoops" Basketball:
With the Boys & Girls Club of Dorchester, July 7th - August 11th. F
or youth ages 12+ with developmental and physical disabilities. Enjoy the full benefits of basketball participation in a safe athletic environment structured to their abilities. For athletes under 12...
Read more
"Especially for Me" Autism-Friendly Museum Afternoon: Acton, July 11th. Free with pre-registration. Play and explore in an ADA-compliant and universally designed museum during this special afternoon dedicated to families with members on the autism spectrum. The Museum will be closed to the general public and...Read more
"Morningstar Access Boston Children's Museum:
Boston, July 16th.
Children with special and medical needs may enjoy the Boston Children's Museum in an uncrowded environment, with few other visitors and less concern about infections and large crowds. Pre-registration required. There are now two different versions of Morningstar:
All Masks On! &

Mask Exceptions Considered...
Read more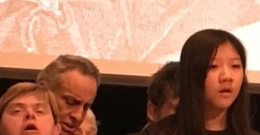 Virtual Special-Needs Chorus Camp in Lexington: Virtual Program, July 7th - 29th, with The Special Needs Arts Program. This Chorus Camp brings together individuals with developmental and intellectual disabilities to learn about singing and music, and socialize and make friends. Participants will work on their song during the month of July and perform in a virtual concert at the end of...Read more
Supporting Siblings During COVID-19: Webinar, July 1st, with the Mass Sibling Support Network. Free. Sibling Support Program: A Family-Centered Mental Health Initiative, is a program for caregivers, siblings and families in Massachusetts. This event is a collaboration of UMass Medical School, PPAL, MCPAP, and Greater Worcester Community Foundation...Read more
MORE Special-Needs Recreation
Adaptive Recumbent Trike Rentals in Western Mass Northhampton, Summer 2021. Trikes will be available for rent to use on the nearby Manhan Rail Trail. Appointments only - no walks ins. Accessible cycles available include hand cycles, tandems, adult tricycles, and cycles offering more significant seating support...Read more
Sensory-Friendly Days with Mass Audubon: July 10th. The Mass Audubon Society Sensory Friendly Days are at sanctuaries throughout Massachusetts.


* N

orth River Wildlife Sanctuary/Marshfield: 10 a.m. & 12:15
* Stone Barn/Dartmouth: 2:00 & 4:15 p.m.
Many of these sanctuaries offer "All Persons Trails", which feature wide, flat, ADA-accessible paths....Read more
Family-Friendly Jurassic Quest Drive-Thru: Through July 22nd, Foxboro. A contactless, family-friendly drive-thru experience that features lifelike dinosaurs, baby dinosaur and trainer meet-and-greets, photo opportunities and a choose-your-own-audio-adventure tour, allowing families to make memories of epic proportions.....Read more
Indonesian Kung-Fu for Special Needs in Western MA: With Whole Children, Hadley, MA, July 6th - August 21st. In person class for ages 6-12 with special needs. Students learn both physical and verbal self-defense and martial arts skills, with a focus on cooperation, respect, increasing self-awareness, and self-control. Students earn belts and stripes at their own pace, while learning the values of hard work and determination....Read more
Bay State Games Para Track & Field Meet: Weston, MA, July 10th. The competition will be divided into two sessions:

Junior, Scholastic, & Para in the morning,

Open & Masters in the afternoon.

Athletes must also meet at least one of the criteria:

A full time resident of New England, a full time student, a registered member of track and.

..

Read more
Just Transition and Adult Events
Young Leaders Rising Program: Free. Deadline - June 30th, with the Mass Rehab Commission. For high school students, ages 14-22, with any type of disability. Activities and events emphasizing employment and career readiness skills, vocational knowledge, ability to access resources for employment... Read more
There's just not enough room! Find lots more events and recreation on our category tabs on our website. Below are our pages dedicated to specific disability challenges and needs. Something for everyone!