For African American History Month, the Massachusetts' Statewide Family Engagement Centers Family Literacy Calendar features books

written and illustrated by historic authors and artists

such as President Barak Obama, Ezra Jack Keats and more.
For February/March Disability events, find:
• Joey's Fund Family Grant for Autism
• Life Training Series for Special-Needs Caregivers:
• Boston Parents Paper's Virtual Camp/Summer Expo: (Not a disability-specific event)
• Work-Without-Limits Career Fair for Disabilities:
• Basic Rights in Special Education "Transition Planning"
We remain hopeful that local organizations who support our families will soon be able to see us all again in person. Stay well! Sharon Marie.
Disabilities' Bill Virtual Sharing Session: February 24, with the Mass Developmental Disabilities Council. Learn about State legislation being filed that will have an impact on Individuals with Developmental / Intellectual Disabilities and their families. Disability organizations, advocates, legislators, and individuals are invited to present information about bills they are sponsoring...Read more
Joey's Fund Family Grant for Autism: Through March 5th, 2021. For families in Massachusetts, Connecticut, Rhode Island, Vermont, New Hampshire and Maine that are in need of financial assistance for their family member(s) with autism.* Must have family member(s) medically diagnosed with Autism Spectrum Disorder...Read more
Life Training Series for Special-Needs Caregivers: Online, Session 1, February 24th - March 24th, with Mass Families and Multicultural Community Services.

Creating Your Family Portfolio

is a f

ree

interactive training designed to help families organize their ideas, vision, and goals for their current life situation and their future life..Read more
Visions of Community Virtual Conference: March 2nd - 6th, with The Federation for Children with Special Needs of Massachusetts. For parents and professionals caring for children with special needs. Workshops will cover IEPs and other special education issues, impact of trauma, self-care, health services / benefits, and transition planning, in English, Chinese, Haitian Creole, Portuguese, Somali, Spanish, and Vietnamese. Plus an Virtual Exhibitors Expo...
Read more
Equity in the Face of Uncertainty: Moving Forward Together: Virtual Disability Legislative Reception for Massachusetts' Families, March 3rd. Persons with disabilities, family members, advocates, state agency heads and their staff, and legislators to meet and catch up on legislative priorities and other important issues.* ASL will be provided, as well as CART in Spanish...Read more
Adaptive Climbing for Ages 5 - 17: Somerville, February 28th. Adaptive Climbing Group-Massachusetts offers accommodations and equipment that assist those with any disability to get on a climbing wall. Volunteers will be on hand to help fit gear, guide new climbers and belay the ropes...
Read more
Virtual Adaptive Zumba Classes:Through March 16th, with the Burlington, MA, Recreation Department. Looking for a way to stay active from home? Get moving and grooving with this Zumba class designed for participants at all ability levels....Read more


Learn to Adaptive Snowboard, Sit-Ski & More: Princeton, MA, March 4th, with Spaulding Adaptive Sports. For stand-up or sit-down skiers. Certified adaptive snow sports instructors will provide private lessons for skiers of all levels, regardless of ability or experience......Read more
Snowshoeing Recreational Therapy Program: Now through Winter 2021, with the Brookline Recreation Department. Strap on your snowshoes, its time for a fun time in the snow. Dates listed are for the entire winter. The Rec Department will …Read more


Transition to Adult Event Events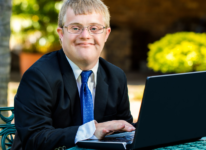 Virtual "Work Without Limits" Career Fair: February 23rd, with UMass. For College Students and Recent Graduates with Disabilities, connects job seekers with disabilities with leading employers who want to hire. Network and learn about available internships, job ...Read more
Planning for 2 Generations Workshop: Webinar, February 24th, with Minute Man Arc of Concord, MA. Many children with a disability must be supported their entire lives, long after their parents have died. Hear about road map for your family's Special Needs, ABLE accounts...Read more
Self-Directed
Services with the DDS:
Webinar Series, through March 9th, with the Massachusetts Department of Developmental Services. Learn how Self Directed Services for adults with disabilities can help your family. Self-Direction is a process through which an individual/family can design...
Read more
Basic Rights in Special Education: Transition Planning Webinar, March 3rd, with the Hudson, MA, SEPAC. For parents of youth in special education ages 14 - 22 transitioning out of school. The information will provide:

why transition planning is important,

services that could be included,

who is eligible,

procedural due process rights for resolving disputes...

Read more