Inclusive recreation across Massachusetts this July for all ages includes adaptive swimming, sailing, cycling, kayaking, "beep ball" and more. Transition -to-Adult events feature workshops for Navigating Transition Services & Supports and Preparing for Life After High School. More Events Include:
• COVID Repair: How to Rebuild Social Emotional Skills In An Unprecedented Era
• Special Education Parent Advisory Council (SEPAC) Summer School
• Understanding and Managing Meltdowns 101
Transition-to-Adult Events Include:
• Preparing for Life after High School
• Navigating Transition Services & Supports
• What Does Independence Mean to Me?
We hope you are having a safe and sparkling Fourth of July vacation week! Sharon Marie
Accessible Spray Pools, Beaches & Beach Wheelchairs: Our Accessible Pools / Beach pages are listed on the left side of the page, and break out into four groups :
* Cape Cod - Accessible Beaches List
* Massachusetts Accessible Pools & Spray Decks
* Accessible Beaches/Beach Wheelchairs in Massachusetts
* Floating Beach Chairs...Read More
Understanding and Managing Meltdowns, 101: Webinar, July 7th, with MGH Aspire in Lexington. Free. For parents and caregivers of elementary school-aged children with ASD or a similar social profile who are looking for an introduction to the topic of Managing Meltdowns. Participants will review typical triggers, strategies to help manage each phase of the meltdown...
Read more
Emotions Clinic for Youth with Disabilities: Hadley, July 11th – August 20th in person, with Whole Children. For ages 10-16 with special needs. Students explore a wide range of emotions, with a focus on happiness, anger, sadness, and fear/anxiety to help recognize these emotions in themselves, understand their triggers...Read more
"The Autistic Brain" Workshop for Caregivers: East Sandwich, July 12th. Free. Co-hosted by Pediatric Neurologist Margaret Bauman, and David Amaral of the University of California MIND Institute's Autism Center of Excellence.

Autism is characterized by many co-occurring conditions such as anxiety, what is the evidence...

Read more
Inclusive Recreation for All Ages
Easterseals MA Adaptive Swim: Worcester July & August. Free. For ages 5 -12, and 13+ with disabilities and their families. This

adaptive recreational swim program (these are not swim lessons) will be led by aquatics instructors and a lifeguard. G

roups participate in safety activities and water games that maximize independence in water...Read more
Open Swim for Special-Needs Families: With the Bureau for Exceptional Children and Adults at JERICHO in Western Massachusetts, July 6th - September 14th. Free. Family pool time for people with disabilities and their families. Includes a picnic tables, a playground, wheel chair swing and Mommy and Me swing. Participants are required to...Read more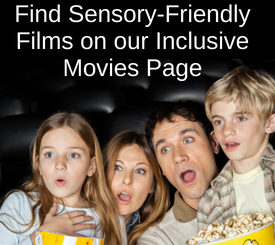 Sensory-Friendly Movies:
AMC: Burlington, Framingham, Methuen, N. Dartmouth, Tyngsboro
"Minions: Rise of Gru", 7/9
"Thor: Love and Thunder", 7/13
"Paws of Fury: The Legend of Hank", 7/23
O'Neil Cinemas: Littleton, MA, Epping, NH
"Thor: Love and Thunder", 7/9
"Paws of Fury: The Legend of Hank", 7/23
...Read more
Adaptive Kayaking: East Sandwich & North Shore Through September 7th, Brewster, Charlestown, South Hamilton, with Spaulding Rehabilitation. For all abilities and ages - there are some limitations. For paddling solo or in tandem, they have a fleet of kayaks that offer extra seating support, one-handed paddling or the use of foot-pedals...Read more
Adaptive Cycling in Eastern Massachusetts Charlestown, Peabody and Brewster, through- October 19th, with Spaulding Rehabilitation Network. All abilities welcome.
Cycle options include adult and child size 3-wheeled recumbent hand and leg-cycles, tandem cycles...Read more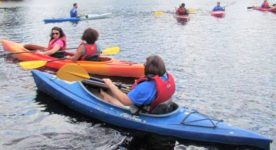 Adaptive Kayaking in Massachusetts' Parks:

Concord,

Goshen, Natick,

Worcester

, July 6th - August 30th. The State of Massachusetts DCR Universal Access program offers adaptive and accessible kayaking in state parks. This includes small groups outings to allow enjoying the...
Read more
Sensory-Friendly Evenings at the Botanic Gardens: Boylston, July 13th In partnership with HMEA's Autism Resource Central of Worcester, the New England Botanic Garden invite individuals and families seeking a low-sensory, less crowded environment for a night of exploring the gardens after hours. For all ages. Tickets must be...Read more
Beep Baseball for All Abilities: Medford, July 9th - August 13th, with Adaptive Sports New England. Want to try to hit a beeping baseball? Run to a buzzing base? Join Adaptive Sports New England at their clinics where you can learn the sport regardless of your visual abilities. The team will include instruction, exercise, friendship and fun, and is for all ages and skill levels...Read more
Miracle League "Fall Ball" Baseball: Western Massachusetts Sign ups ongoing until August 5th, or when they reach max

participants

of 60 players.

For ages 4-19, with physical and/or cognitive disabilities.

The Miracle League of Western Massachusetts provide children and adults of all abilities the chance to play baseball in

Western Mass and...

Read more
Transition & Adult Events
What Does Independence Mean to Me? Webinar, July 21st, with SPaN Massachusetts. A panel of youth/young adults with disabilities will discuss what independence means to them and what skills helped them towards that goal. Too often we discuss independence without involving young adults in the conversation. Being independent will look different to each of them and it's important..Read more
What Autistic Individuals Need to Know About College: Webinar, July 13th, with the Asperger / Autism Network of Watertown, MA. A panel of three college professionals — consultants who specialize in advising and placing autistic individuals in college and university programs throughout the US, along with directors of student support...Read more
Navigating Services & Supports Transition Workshop Webinars, July 20th. Arc of Massachusetts Transition Webinars will offer different topics each month as group consultations. These consultation sessions provide information and resources for specific areas of need, who to call, where to go, and best practices to guide...Read more
There's just not enough room! Find lots more events and recreation on our category tabs on our website. Below are our pages dedicated to specific disability challenges and needs.