February disability workshops for families in Massachusetts are focusing on topics such as bullying, advocacy and life planning classes. For those looking for adult services, topics cover housing, employment/training, guardianship and more.
February workshops feature:
• "Charting the LifeCourse" Series for Disability Caregivers
• Family Leadership Training in Western Mass
• Bureau of Special Education Appeals in Massachusetts
• Bullying: What Parents Need to Know:
Transition-to-Adult Workshops Include:
• Massachusetts' Autism Conference "A Roadmap Through Adulthood"
• Pre-Employment Transition Services with Mass Rehabilitation Commission
• "Learning About Housing" for Families with Disabilities
• Guardianship & Other Alternatives
It's great to see our communities slowly getting back to normal routines - just in time for Spring! Sharon Marie
Special Olympics Massachusetts Celebrates Black History Month: Special Olympics Massachusetts (SOMA) is celebrating Black History Month by featuring their local participants and volunteers. They will be featuring their participating Black athletes, coaches, and volunteers for the entire month. Look forward to hearing and seeing about these SOMA's athletes' many accomplishments...Read more
Charting the LifeCourse for Disability Caregivers: February 17th - April 14, North Chelmsford, MA, with Seven Hills Greater Lowell Family Support Center. Free. Learn how to use the Charting the LifeCourse framework in practical ways:

map out your community resources,

build a trajectory for your loved one,

create goals in simple steps.

..

Read more
Bullying: What Parents Need to Know: Webinar, February 17th, with the Groton Dunstable Regional School District SEPAC. This presentation addresses:

what a bully is,

the school's legal obligation to prevent and address bullying,

some strategies and tools for dealing with bullying,

how to address bullying in the IEP...

Read more
Family Leadership Training in Western Mass: Holyoke, February 18th - March 12th. The West Region Family Leadership Series focuses on supporting families to advocate for their family members with disabilities. Applications can be from families with children or adult family members of any age with any disability who are Department of Developmental Services eligible...Read more
IEP Programa con Federation for Children with Special Needs Lawrence, MA, 17 de febrero - 7 de marzo, con La Federación para Niños con Necesidades Especiales, Misa Defensores de los niños y defensa de padres/profesionales Liga. February 17th - March 7th, with the Federation for Children with Special Needs in Massachusetts, Mass Children's Advocates, and Parent / Professional Advocacy League...Read more
Bureau of Special Education Appeals "Mediation & Facilitation": Webinar, February 23rd, with the Massachusetts Bureau of Special Education Appeals. Often families and school districts are able to work collaboratively and develop IEPs and 504s to meet the needs of their students; however when they reach an impasse, it can be frustrating, upsetting, and leave the...Read more
Sensory Sundays in Acton Acton, February 27th, 10 a.m. The Discovery museum will do a nature-based activity based on the weather and season, either in Discovery Woods or out on the adjacent conservation land. All ages are welcome but activities are designed for 2-6 year olds. Please note that the conservation land trails are not ADA or stroller accessible; please wear appropriate footwear and clothing...Read more
Inclusive Soccer in Concord: With the Concord, MA, Recreation Department, through March 26th. For ages 2 - 7 with special needs. Super Soccer Stars Shine Program uses soccer as a vehicle to teach life skills to individuals with developmental and intellectual disabilities including but not limited to, Autism Spectrum Disorders, Down Syndrome, ADHD and PDD -NOS. Classes are ...Read more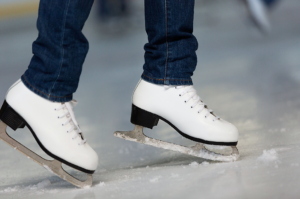 Adaptive/Therapeutic Skating: Norwood Norwood, through March 27th. This program provides children and adults with disabilities access to the sport of figure skating. The program director, instructors, volunteer coordinator, and volunteers, work closely with each skater and family to tailor their individual instructional needs...Read more
Inclusive Cha-boom Yoga & Zumba for Youth & Teens: Virtual Sessions, Through April 27th, with the Arc of Bristol County in Attleboro, MA. Cha-boom is chair and regular Zumba combined. Adults and young adults with disabilities up to age 17 can get together with friends and get moving. Hear some of your favorite songs...Read more
Adaptive Indoor Climbing for For All Ages: Somerville, February 27th. Everyone is encouraged to come climb - accommodations and equipment will help climbers with any disability get on the climbing wall. ACG will provide a safe, and supportive environment for people with disabilities. ACG volunteers will help fit gear, guide new climbers...
Read more
Virtual Therapeutic Music: Springfield through March 3rd, with Kehillah of the JCC Springfield. (For ages 14+, visit this link.) A board-certified music therapist will engage children through music to increase social skills, non-verbal communication, speech, interaction, and more. Children of all abilities are welcome...Read more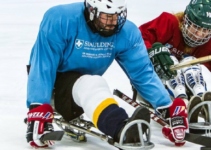 Community Sled Hockey Practices: Charlestown & Everett, MA, through March 27th. Sled hockey enables youth and adults to play hockey in a seated position with blades beneath them. Players propel themselves by using sticks with picks on the end, or with the assistance of a designated pusher. Open to able-bodied friends and family member as well. Coaching and equipment are provided...Read more
Adaptive Free Swim for Teens & Young Adults: Charles River YMCA in Needham, Winter & Spring. Free and open to those with special needs. All teens and young adults welcome, with and without disability (companions, aides and therapist are welcome) * Enjoy swim laps, workout...Read more
Adaptive Aquatics in Springfield, MA: Winter 2022, with the JCC Springfield. For all ages with special needs. One instructor for each participant. Program usually runs on Saturdays and Sundays with 1:1 student to instructor ratios.
Children learn water safety skills. Entry to the pool includes stairs, ladder, and handicap lift access...Read more
Transition & Adult Events
"Learning About Housing" for Families with Disabilities Webinar, February 26th - April 23rd, with Autism Housing Pathways of Winchester. Learning About Housing is a 5 part Zoom series to help families determine housing options that might be appropriate for their family member. Families are guided through materials that will help them to determine what housing options might be appropriate...Read more
Threshold Program Virtual Information Session for Diverse Learners: February 17th with Lesley University Threshold Program in Cambridge, MA. This virtual open house will offer young adults with diverse learning differences and their caregivers and families an opportunity to explore: Concentrations and Curriculum, Independent Living Skills Training, Social and Psychological Development...Read more
Guardianship & Other Alternatives: Webinar, February 28th, with the Lexington, MA, SEPAC. Presented by Julie O'Brien, a family support clinician at the Lurie Center for Autism. LexSEPAC and LexSEPTA encompasses both the Parent Advisory Council for children with special needs in Lexington, MA and Lexington's special education PTA...Read more
Virtual Self-Advocate Conference For Massachusetts Adults: February 19th- 24th, with Mass Advocates Standing Strong (MASS). A a state-wide, self-advocacy organization run for and by people with intellectual and developmental disabilities.* Your Ideas Count is the theme for the 2022 conference. Take part in workshops and learn new skills while having fun with friends old and new....
Read more
Massachusetts' Autism Conference "A Roadmap Through Adulthood" Virtual Conference, March 5th & 6th, with the AANE of Watertown, MA. The Jody Acford Conference - A Roadmap Through Adulthood: Making Sense of Public and Private Support Systems for Adults on the Spectrum presents comprehensive information on the public and private benefits, services, and supports available to adults on the spectrum in Massachusetts...Read more
There's just not enough room! Find lots more events and recreation on our category tabs on our website. Below are our pages dedicated to specific disability challenges and needs.