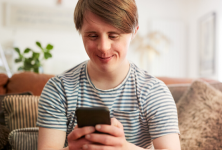 Held online with UMass Lowell, August 3rd & 17th, and through 2022. A social networking program for adolescents and young adults on the autism spectrum. There are currently have around 10-15 regular attendees each month ranging in age from about 16-30 years.
* The group typically meets online (Discord server) the first Wednesday of each month 6-7.30 pm.
* The main goal of The Network is to provide an opportunity for young adults on the autism spectrum to meet others who they may have things in common with and who they can connect with.
* Meeting online, chat, and playing Jackbox games.
* The Network costs $75 for the year (pro-rated; and scholarships are available).
To RSVP or for more information visit https://www.uml.edu/Research/Autism/services/the-network.aspx  or contact  Ashleigh_hillier@uml.edu 2022 Tentative Schedule – Subject to change. Please check with link for updated information. 
Wednesday, June 1: Escapology Escape Room, 345 Main St, Tewksbury, MA 01876.
Wednesday, June 15: Discord
Wednesday, July 6: Picnic at UMass Lowell (on the lawn opposite Coburn Hall).
Please bring a snack / drink to share, a blanket to sit on, and lawn games.
Wednesday, July 20: Discord
Wednesday, August 3: TBD
Wednesday, August 17: Discord
Wednesday, September 7: Jay Gees Ice-cream and Fun Center in Methuen: 602 Lowell Street, Methuen, MA 01844. Meet at the ice-cream stand and then parents / caregivers can stay there and chat, and group members can do other activities if they want to such as batting cages, go karts, mini golf or the (small) arcade.
Wednesday, September 21: Discord
Wednesday, October 5: Halloween Party and Potluck Coburn Hall.
Wednesday, October 19: Discord
Wednesday, November 2: 6-7:30 p.m.: Pizza and games night at UMass Lowell (room G10 in Coburn Hall for group members and G20 for parents / caregivers). Bring your favorite board game and snacks / treats / drinks to share. We will supply pizza and drinks for group members and parents / guardians.
Wednesday, November 16: Discord
First week of December (day and time TBD): UMass Lowell Mean's ice-hockey game at Tsongas Center in Lowell.
Wednesday, December 21: 6-7:30 p.m.: Discord

Find more recreation activities for youth and adults with special needs on our Recreation Page.