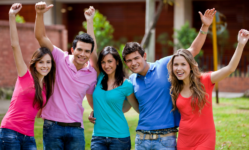 Virtual Programs, through September 1st, with Partners for Youth with Disabilities in Boston and the Massachusetts Rehabilitation Commission (MRC). Free.
What: A leadership series exploring topics to prepare leaders for their future.
Why: To equip leaders with the skills resources, networks, and confidence they need.
Who: Massachusetts students with any type of disability; ages 14 – 22 years.
Details: Each session will be held over 2 weeks and is FREE to attend. Enroll in just 1 or all 4 sessions.Paid Positions Available: Leadership Fellows earn $15/hour supporting program planning, outreach and
recruitment, and program facilitation during each series.
TOPICS
• Disability Advocacy: July 11- July 22  
• Let's Get Ready to Work: July 25-Aug 5  
• Education Goals: Aug 8-Aug 19
• Independent Living : Aug 22-Sep 1 
During each session you will build social networks and develop connections through a series of online gatherings, workshops.
To learn more, visit
https://www.pyd.org
or contact Kristin Humphrey , (617) 556–4075 or ylf@pyd.org.