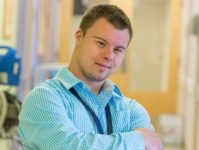 With Mass Advocates for Children. Application deadline is September 30, 2022. Massachusetts Advocates for Children (MAC) invites young adults 18-26 with an intellectual disability or/and autism to apply for the Young Adult Leaders Fellowship.
* This fellowship offers an opportunity to learn the professional skills needed to self-advocate and to advocate on behalf of other youth with disabilities.
* The Young Adult Leaders Fellowship is a one-year, part-time opportunity that provides advocacy training under the direction of MAC's Young Adult Leaders Supervisor and senior attorney.
* A small stipend is provided.
* The Young Adult Leaders Fellowship will include working with and learning from MAC staff, focusing on advocacy for individual students, legislative and policy advocacy, and training for parents and professionals.
* The Fellowship will include active participation in a range of advocacy and training activities with close direction and leadership (for example testifying at the State House, co-presenting at trainings, attending IEP meetings).
The Fellowship will provide:
• Supervised training and work experience at MAC for one year
• Opportunities to learn and do key office tasks
• In-person and/or remote meetings at schools, with legislators and parent groups
• Opportunities to work in an office and practice workplace social skills
• Supports in the workplace including peer mentoring by MAC law school student interns
• Small stipend to help cover commuter or other expenses
Preference will be given to a young adult with an intellectual disability or/and autism who has some knowledge of advocacy and the special education process and who shows an interest in working together with co-workers in shared office space.
For more details on qualifications and how to apply, visit https://docs.google.com/forms/d/e/1FAIpQLSetCD7Dy3p7cvvr2Kjy-jZbze5KauZ6UnSSFnpFDNYKjYk-5w/viewform or contact Johanne Pino at jpino@massadvocates.org.