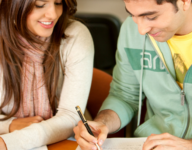 Webinar, May 17th, 2022, with the Special Needs Advocacy Network of Massachusetts. This is event is for families, Youth/Young adults with disabilities and Adult System representatives and presented by NTACT on VR Services.
Vocational Rehabilitation How, Why & When: Part 2 –  Join in on Part 2 as they continue the  discussion with NTACT-The Collaborative on the following:
Increased understanding of the Vocational Rehabilitation process and transition services including a distinction between pre-employment transition services and Vocational Rehabilitation Services.
Increased understanding of why, when, and how students and youth can access pre-employment transition services and/or VR services.
Increased understanding of what an Individual Plan for Employment (IPE) includes and the role students, youth, and parents play in the development of the IPE.
Increased understanding of key considerations and increased knowledge of important and often used jargon related to transition.
To register or for more information visit www.eventbrite.com/e/real-transition-partners-vocational-rehabilitation-how-why-when-p2-registration-331850201887  or contact 508.655.7999 or  info@spanmass.org